Major Chinese Bank Updates Blockchain Platform After $50 B Transacted
The China Construction Bank (CCB) officially released the second version of its blockchain trading platform, which reached 360 billion yuan ($50 billion) in cumulative transaction volume.
CCB will actively promote blockchain platform
On Oct. 9, Xinhua news agency reported that CCB, one of the big four banks in the People's Republic of China, announced the release of "BCTrade 2.0," a blockchain trade finance platform that digitizes trade and financial services between a reported 54 domestic and overseas CCB branches and 40 external organizations, including a number of state-owned and foreign banks.
The platform conducts trade and financing activities, such as accounts receivable and trade financing, and aims to provide a regulatory system for trade finance to enable real-time monitoring of various financial activities. Deputy governor of the Construction Bank Ji Zhihong said that the bank will actively promote the blockchain platform and invite more industry peers to join.
In March 2019 the CCB released its 2018 report showing that the blockchain trade finance platform by the end of 2018 had already transacted 200 billion yuan ($30 billion).
Since the launch of the trading platform, cumulative transaction volume has to date reportedly exceeded 360 billion yuan ($50 billion).
Eight Institutions to Get China's Digital Currency
According to unconfirmed sources, the People's Bank of China is giving its first round of central bank digital currency (CBDC) to online retail giant Alibaba, Internet giant Tencent, five banking organizations and one unknown entity.
Crypto Expert Says There Is 60 Percent Chance of Bitcoin Miner Capitulation
Cryptocurrency analyst Charles Edwards has estimated that there is a 60 percent chance that another miner capitulation, the dramatic drop of Bitcoin's hash rate, will take place soon. Miners have to decide whether they want to call it quits or run their operations at a loss in order not to miss out on a potential bull run.
There is ~60% chance of a Bitcoin miner capitulation.

But the extent of this HR growth plateau has never occurred before in Bitcoin's history.

Miners face a tough choice:
1) Mine more & accumulate more
2) Cut back & potentially 'miss' a major bull runhttps://t.co/DA5FR73aOI

— Charles Edwards (@caprioleio) November 18, 2019
In his Medium article, Edwards opined that there was an intrinsic link between hash rate and price. The new price bottom tends to coincide with miners leaving the Bitcoin network en masse. Hence, buying new coins when the hash rate reaches a local low could be an excellent opportunity to generate big returns (as the table below shows).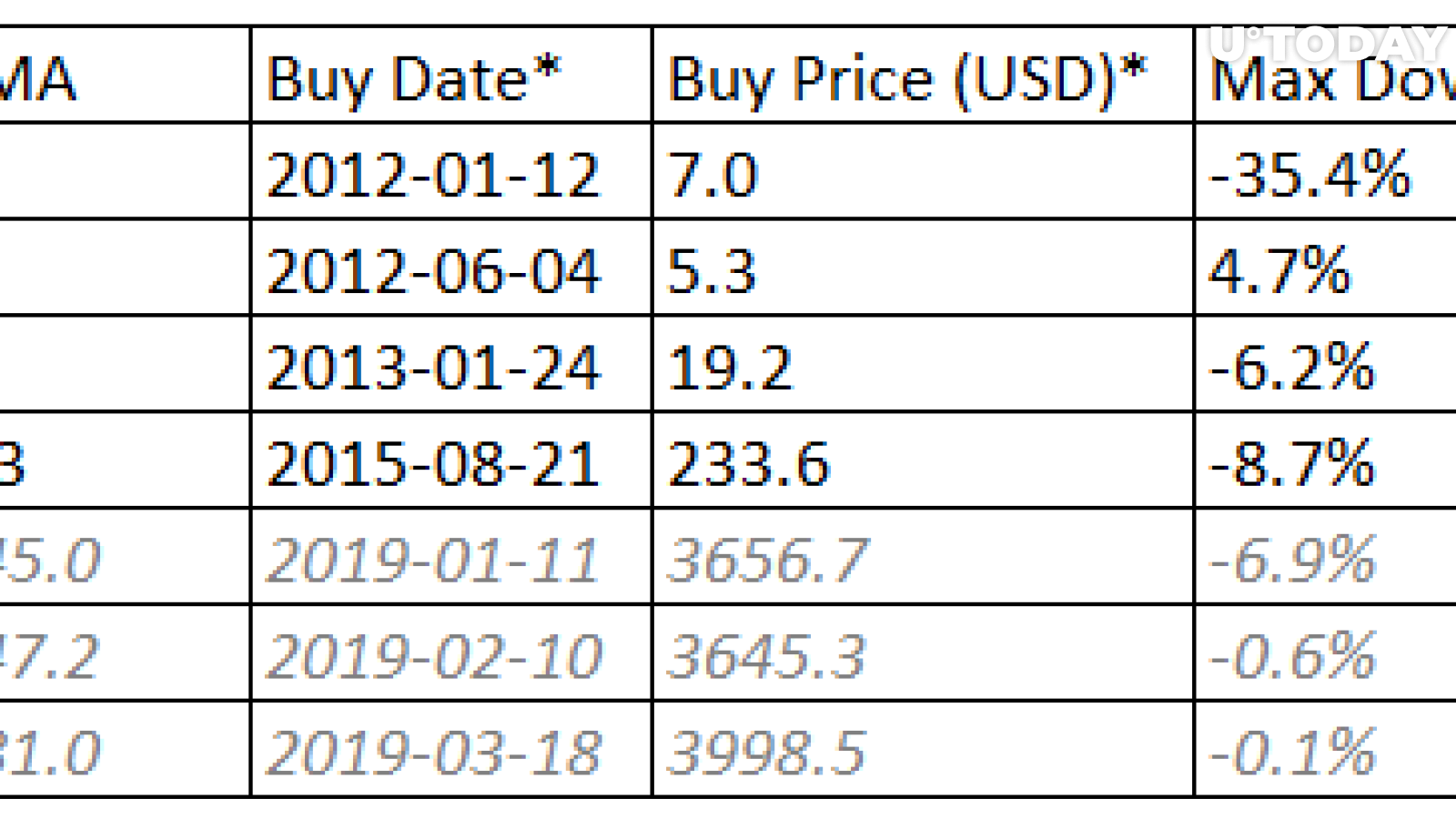 Hash rate is not as volatile as price. The biggest drop that has been recorded since 2010 is only 53 percent (a world of difference compared to Bitcoin's record-holding 93 percent drop).
Bitcoin's mining difficulty, which gauges the amount of computational power that is required for solving one BTC block, declined by seven percent on Nov. 7. However, Dutch permabull "Plan B" predicted that the next adjustment would be positive for Bitcoin based on its growing hash rate.
Bitcoin ATMs Top 6,000 Worldwide
There are now more than 6,000 bitcoin and crypto ATMs available to users worldwide.
According to data compiled by CoinATMRadar, there have been 6,003 crypto-based ATMs installed worldwide as of Nov. 17.
.@PayPal dropped payments support for @Pornhub. There are at least 6000 reasons to not care. #Bitcoin ATM installations number reached another round milestone – 6000 worldwide!! 🔥🔥🔥 Find all locations: https://t.co/PYxwqx33TN pic.twitter.com/KYp3M1nLzm

— Coin ATM Radar ₿🏧 (@CoinATMRadar) November 16, 2019
The United States continues to lead the rest of the world in bitcoin ATMs, with more than 3,900 machines installed. Canada has the second most 653, followed by the United Kingdom with 272 crypto ATM installations.
As previously reported, bitcoin ATMs have experienced a resurgence in growth throughout 2019, alongside the rising price of crypto-assets. In September, the total number of crypto ATMs worldwide topped 5,500, marking a 500 percent increase in installations since 2016.
The number of #Bitcoin ATMs from September 2016 to September 2019 has increased by over 500%

As of now, there are currently 5,457 Bitcoin ATMs globally.

Supply meeting a demand. pic.twitter.com/eIrHwvs2z6

— bitrawr (@bitrawr) September 19, 2019
Compared to traditional exchanges, ATMs charge higher fees on transactions that can reach as much as 15%. However, they also provide a convenient, physical kiosk for the transfer of bitcoin to fiat, and vice-versa, in addition to buying and selling crypto-assets.
Many members of the crypto community have looked at the rise in ATMs as a positive indicator of growing demand.
Russian Intelligence Agency FSB Linked to $450 Million in Missing Bitcoin
Russia's Federal Security Service (FSB) has been linked to the disappearance of $450 million in bitcoin from the controversial crypto exchange World Exchange Services (WEX).
Controversial Exchange WEX/BTC-e
In late 2018, Russian-based crypto exchange WEX collapsed amidst accusations of money-laundering the disappearance of hundreds of millions of dollars in bitcoin and other crypto assets. According to a BBC report published Nov. 15, the Russian FSB intelligence agency may have played a role in misappropriating the lost funds.
WEX was previously known as BTC-e before being shut down in 2017 by international authorities for its alleged involvement in money-laundering activities. Alexander Vinnik, the exchange's alleged operator, was arrested at the time and accused of laundering more than $4 billion in cryptocurrency since the exchange's launch in 2011.
A PwC report earlier in the year said,
WEX is most notably known for its alleged involvement in the laundering of some $4 billion, transferring of funds to facilitate operations of the threat actor tracked by PwC as Blue Athena, and being responsible for cashing out 95% of all ransomware payments made since 2014.
FSB Crypto Fund
According to the BBC report, WEX/BTC-e co-founder Alexey Bilyuchenko says he was forced to hand over information about customer's digital wallets to members of the FSB in 2018, which the intelligence agency allegedly used to obtain more than $450 million in user funds.
The BBC claims to have obtained audio recordings from individuals discussing the importance of bringing WEX under FSB control, including one man the BBC identifies as Konstantin Malofeev, a pro-Kremlin Russian billionaire currently under U.S. sanctions.
Bilyuchenko reportedly received multiple calls threatening to close the WEX exchange if he did not comply. According to the report, the WEX co-founder was taken to FSB offices in Moscow over the course of three days in April 2018, where he handed over flash drives containing details on accessing exchange user funds.
Bilyuchenko says he was told that WEX client money would be transferred to the "FSB Russia Fund." Several months after handing over the data, WEX froze customer funds and withdrawals, before completely shutting down in late 2018.