Cryptocurrency Trader Says Bitcoin Whale's Manipulation in Overdrive
Cryptocurrency Trader Says Bitcoin Whale's Manipulation in Overdrive
Crypto trader Tyler Swope says Bitcoin whales are increasingly manipulating the market this summer.
"Taking a look at Bitcoin's price chart over the past two weeks, it's easy to get a sense of what is currently going on, as the chart is extremely choppy, showing multiple pump and dumps, dump and pumps, and flash crashes galore. This is total manipulation in the range between $9,000 and $11,000, and the whales are initiating and capitalizing on the short-term volatile price swings."
He points to a sudden drop in the price of Bitcoin across all exchanges on Sunday as the most recent example. After trading above $9,500 all day, the price of Bitcoin suddenly dropped to $9,265 and popped back to $9,507 – all in just over an hour.
According to Swope, the dump was performed on Bitfinex, where the price sank to nearly $9,100.
"Why did this happen? Well, as we know, Bitfinex also has margin trading on their exchange. And the whale probably associated with the exchange pulled off a classic bear trap, wrecking a ton of positions on that exchange. They wanted to liquidate, number one, any longs that would be due for liquidation at that price.
And number two, to lure other less experienced traders into their manipulation, thinking the market was going to start falling off a cliff. Thus, these traders immediately opened short positions on the exchange. The whale then immediately starts buying, forcing traders to close out those positions at a loss.
And this is pretty much exactly what happened. As we can see over the past 24 hours, it is mostly longs that got liquidated. And then, with this chart, you can see the exact time of the flash crash, around 17:00 UTC. Traders on the Bitfinex exchange changed their position, being manipulated by the crash."
Swope also highlights a number of separate sell orders triggered temporary crashes in the price of Bitcoin in recent weeks.
One of the most well-documented flash crashes in recent weeks was on July 14th, when traders 
tracked
 a sale of $15,000 ETH on the crypto exchange Bitstamp. This caused the price of ETH to crash on the exchange and triggered a domino effect on BitMEX, which bases the price of its ETH futures contracts in part on Bitstamp.
Meanwhile, an investigation is underway into another Bitstamp sell-off in May, when a whale is believed to have sold about 5,000 BTC in a single trade, which triggered another flash crash that plunged price of Bitcoin from $7,800 to as low as $6,250 in about 15 minutes.
Has Facebook's Libra Made People Reconsider USD As Global Reserve Currency?
Major global economists credit Facebook's Libra with pushing the world to start reconsidering the United States dollar as anchor currency.
At a Jan. 23 panel at the annual World Economic Forum (WEF) in Davos, officials and financial experts discussed one of the most important mechanisms in the global financing system — the U.S. dollar, which has become the world's reserve currency.
Called "Challenging the Dominance of the Dollar," the panel focused on factors that make the U.S. dollar the world's dominant payment system and reserve currency, as well as the fact that countries over the globe are trying to reduce their dependency on the dollar. The panel featured a number of officials including Brazil's Economy Minister Paulo Guedes and Gita Gopinath, chief economist at the International Monetary Fund (IMF). Hosted by Adam Tooze, director of the European Institute at Columbia University, the panel also included Portugal's Finance Minister Mario Centeno and Zhu Ning, a professor of finance at Tsinghua University.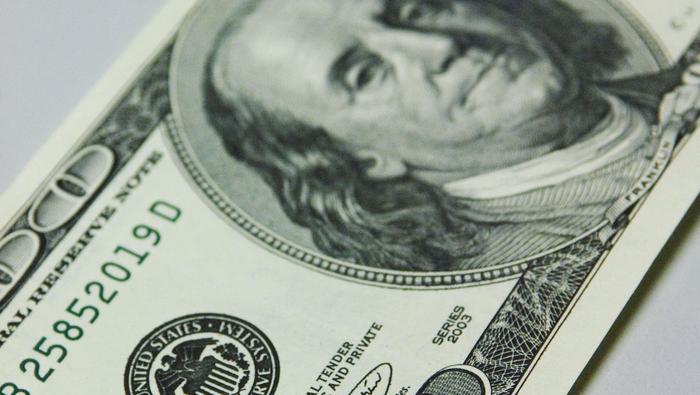 Gopinath, who is also a director at IMF's research department, opened the panel with comments that named Facebook's cryptocurrency initiative Libra as a major factor that made everyone in global finance reconsider the status of the dollar as anchor currency. Brazil's Economy Minister supported the statement, adding that new technologies like blockchain are paving the way for future currency that will be digital:
"So then there is the new technology, the digital, the blockchain. […] The Libra episode is just evoking a future digital currency."
Gopinath continued the U.S. dollar still remains attractive, pointing out that one of the most important features that make the U.S. dollar attractive is trust and stability:
"Why is it that the dollar has such dominance? It does because it is the currency that provides the best stability and safety. […] It makes complete sense to hold your value in dollars because if things go bad, it gains value."
The fact that WEF economists now agree that Facebook's Libra has pushed global authorities to start reconsidering their approach to the world's reserve currency, is definitely reinforcing the status of emerging fintech technologies as well as blockchain. Meanwhile, some officials have already warned that projects like Libra can have a huge impact on the U.S. dollar. In August 2019, Mark Carney, the governor of the Bank of England, suggested that Libra-like digital currency could replace the U.S. dollar as the world's reserve currency. 
Carney said that replacing the dollar with a digital currency would be a better option than allowing its reserve status to be replaced by another national currency such as China's renminbi. Libra initially proposed to back its crypto project by several national currencies including the U.S. dollar, euro, Japanese yen, British pound and Singapore dollar, allegedly excluding the Chinese yuan from the group of reserve assets.
Litecoin Is Not 'Digital Silver' According To Report
The start of 2020 has seen considerable gains in the cryptocurrency market as a whole. Recently, Bitcoin (BTC) price reached a 2-month record high crossing above the $9,000 mark as well as other cryptocurrencies such as Litecoin (LTC) reaching $62.80 which is the highest price seen since mid-November 2018.
Cryptocurrencies' volatile behavior is one of the main concerns raised by researchers and it complicates the argument that Bitcoin should be classified as a traditional investment asset and that it is a reliable store of value. Amid those discussions, Bitcoin has been closely compared to gold, while Litecoin has been associated with being "the silver to Bitcoin's gold." 
New data suggests that the actual correlation between Bitcoin and gold is not significant, as well as gold's explanatory power of Bitcoin returns. Nevertheless, Bitcoin is still frequently compared to gold, particularly as a potential safe-haven asset. Since October 2019, silver prices have approached new record-highs. But does the latest data support the argument that Litecoin is the silver of cryptocurrencies? Could Bitcoin instead of Litecoin be closer to silver than to gold?
Our data — from May 2013 until December 2019 — shows that Bitcoin and Litecoin returns are very positively correlated (0.67) with 1 implying a strong positive correlation and 0 meaning that the assets are not correlated. A reading of -1 shows that the assets are completely inversely correlated. Meanwhile, the correlation between silver and Litecoin returns is close to zero (0.026), which is similar to Bitcoin's correlation with silver (0.0025). We further analyzed the correlation between the lagged silver returns and the two assets. In other words, the correlation between yesterday's silver returns and today's Litecoin and Bitcoin returns were compared. However, the results are even more discouraging, since both show negative correlations with the lagged silver returns. Bitcoin's correlation was -0.03 while Litecoin's was -0.05.
Analyzing the rolling correlations provides a wider view and each data point in the diagram above refers to the correlation of silver and Bitcoin returns (BTC/silver), and between silver and Litecoin returns (LTC/silver) over the last 30 days. One can see that the correlation between Bitcoin and silver, and Litecoin and silver, is very similar across time during both negative and positive periods.
Hence, both Bitcoin and Litecoin have a small correlation and similar relationship with silver. Thus, the Litecoin as "digital silver" narrative is challenged by these very low correlation values. Moreover, it's no surprise that Bitcoin has surpassed both Litecoin and silver as the best investment option over the past ten years.
The data, however, suggests that silver returns may work as a predictor for future Litecoin returns. From the model employed, if silver's return rose by 1% yesterday, we can expect that Litecoin returns may decrease by -0.232% today. This statistically significant result can lead investors to assume that silver returns may work as a predictor for future Litecoin returns in a negative way. Similar outcomes were not found in the case of Bitcoin, however. The ability to predict prices has been the holy grail of financial markets, hence the importance of this relationship between returns. Even though both crypto assets show a very low correlation with silver, the results for the lagged returns shed some light on the relationship between silver and future Litecoin returns. 
Looking forward, investors may want to look at silver returns to draw strategies when buying/selling Litecoin based on this past silver return's analysis. However, any strategy has to consider the fast-changing crypto market environment and careful analysis over different time periods, which can cause different conclusions. Nevertheless, these findings can help us to conclude that Litecoin as the digital equivalent of silver is far-fetched due to the low correlations. However, we do highlight the value of investigating the digital silver narrative by establishing a new connection between returns, which is crucial for investors.
Ethereum Scalable Harberger Tax Contracts Deployed to Raise Funds for Endangered Animals
A platform called Wildcards has successfully deployed scalable Harberger tax contracts on the Ethereum blockchain for the first time in an effort to save endangered animals.
Specifically, users of the Wildcards platform can buy non-fungible animals tokens, but immediately must put the token up for sale so that someone else buys it and funds continue to be raised. In order to prevent a user from setting a ridiculous selling price, the user must pay a percentage of the selling price, which is called a Harberger tax.
Although users must sell their tokens, the platform records their stats, so they can show off how much they have donated to charity if they desire.
The Wildcards platform is not limited to raising funds for endangered animals either. Any charity can raise money with Wildcards. For example, koala non-fungible tokens might be traded in order to raise funds for the Australian wildfires.
Overall, this is an excellent example of how blockchain technology can be used to raise funds for charitable causes.