Crypto Expert Says There Is 60 Percent Chance of Bitcoin Miner Capitulation
Cryptocurrency analyst Charles Edwards has estimated that there is a 60 percent chance that another miner capitulation, the dramatic drop of Bitcoin's hash rate, will take place soon. Miners have to decide whether they want to call it quits or run their operations at a loss in order not to miss out on a potential bull run.
There is ~60% chance of a Bitcoin miner capitulation.

But the extent of this HR growth plateau has never occurred before in Bitcoin's history.

Miners face a tough choice:
1) Mine more & accumulate more
2) Cut back & potentially 'miss' a major bull runhttps://t.co/DA5FR73aOI

— Charles Edwards (@caprioleio) November 18, 2019
In his Medium article, Edwards opined that there was an intrinsic link between hash rate and price. The new price bottom tends to coincide with miners leaving the Bitcoin network en masse. Hence, buying new coins when the hash rate reaches a local low could be an excellent opportunity to generate big returns (as the table below shows).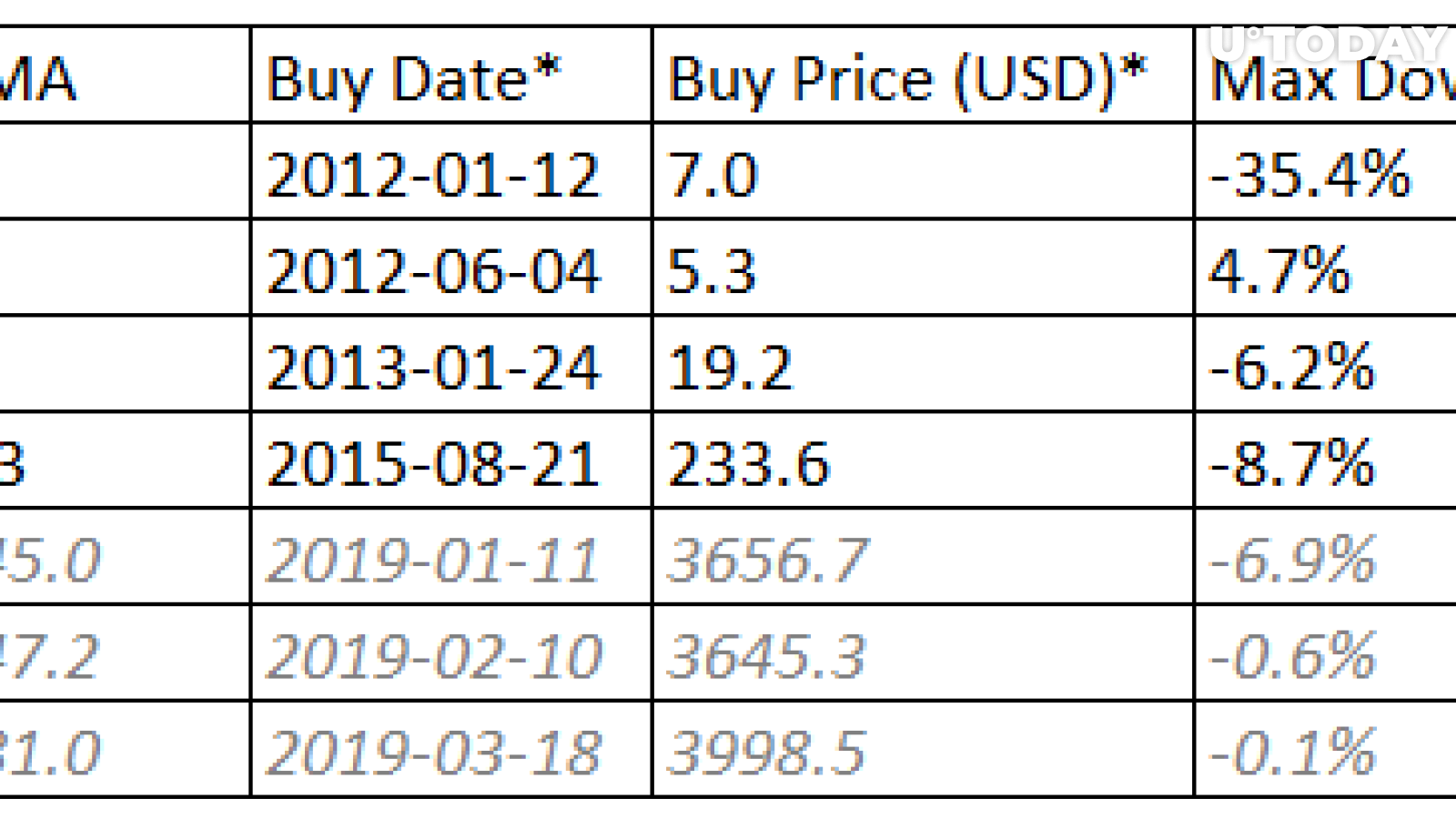 Hash rate is not as volatile as price. The biggest drop that has been recorded since 2010 is only 53 percent (a world of difference compared to Bitcoin's record-holding 93 percent drop).
Bitcoin's mining difficulty, which gauges the amount of computational power that is required for solving one BTC block, declined by seven percent on Nov. 7. However, Dutch permabull "Plan B" predicted that the next adjustment would be positive for Bitcoin based on its growing hash rate.
EOSIO-Based Social Media Platform Voice Launches Ahead of Schedule
Voice, a blockchain-based social media project developed by EOS creator Block.One, briefly went live one day before its scheduled launch. Based on the open source EOSIO protocol, Voice aims to use Blockchain technology to create a trusted social experience, free from bots and fake accounts. Revealed in June 2019, the project uses biometric authentication technology to verify every account, limiting accounts to one-per-person and promising to protect user data.
Voice's main page temporarily displayed several posts from different accounts which featured multiple likes and comments. As of press time, the website is no longer available. It now displays "Error 1020" instead, which specifies that the website is "using a security service to protect itself from online attacks.". In early June, Zalatimo announced that the platform is set to roll out on U.S. Independence Day. He noted that only registered users would be able to publish content or engage online.
After revealing their plans for Voice in June 2019, EOS' parent firm, Block.One, invested $150 million in Voice during March 2020. The investment was said to provide Voice with resources to operate independently from Block.One. Numerous blockchain-related social media projects have been released to date.
Billionaire Chimes In On What A BTC Price Increase Would Mean
Chamath Palihapitiya, the billionaire CEO of Social Capital and Virgin Galactic Chairman, has called Bitcoin a type of disaster insurance against governments making bad financial decisions. In an interview with Unchained Podcast on June 23, Palihapitiya said hard-working people need something like Bitcoin as insurance, as the cryptocurrency is "really fundamentally uncorrelated" to the consequences of legislators behaving badly. 
However, the CEO pointed out that for the Bitcoin price to skyrocket at this point, things would have to go terribly wrong in the financial system, with disastrous impacts on your friends and family. "If your Bitcoin bet pays off," Palihapitiya said, "it will be cataclysmically destructive for the world. And that'll have enormous consequences to many people we all know and care about who weren't hedged in Bitcoin. And so you almost don't want it to happen."
Palihapitiya himself invested in 2010, by buying one million Bitcoin for $80, whose value reached the billions when the token had its all-time high in December 2017. No wonder the billionaire claims that Bitcoin (BTC), unlike "second- and third-tier" cryptocurrencies like Ethereum (ETH), is one of the few ways to get a "massive asymmetric payoff" from such a small investment. "You want to be sure that a small amount of insurance can basically make you whole," Palihapitiya said, citing a $1,000 payoff for a $1 investment as a good example. "That's why I just think that, you know, you should take 1% of your portfolio, put it in Bitcoin."
"At the end of the day, any other asset class — equities, debt, real estate, commodities — they're all tightly, tightly coupled to a legislative framework and an interconnectedness in the financial markets that brings together many of the governments that are sort of behaving this way."
The billionaire has also speculated the value of Bitcoin in the future could reach millions of dollars, or drop to zero.
SEC Charges Lobbying DC Insider Jack Abramoff With Fraud For Promotion Of A 2018 ICO
On June 25, the United States Securities and Exchange Commission charged the issuer of AML Bitcoin — not to be confused with Bitcoin itself — with conducting a fraudulent offering. These charges follow up on a criminal filing in San Francisco from June 22.
Per the complaints, Rowland Marcus Andrade and his NAC Foundation raised upwards of $5.6 million in an initial coin offering (ICO) for AML Bitcoin beginning in August 2017 and continuing through 2018, amid the huge ICO boom of that time. The criminal charges filed against Andrade in San Francisco on June 22 refer to a "Co-Schemer" who is never named in that complaint. The SEC's charges today reveal that individual as Jack Abramoff, a notorious lobbyist who did prison time for corruption between 2006 and 2010. The SEC allege that Abramoff aided Andrade with promotion that proved to be false. In addition to lying to investors about the technical development behind AML Bitcoin, Andrade also purportedly used millions of dollars in investor funds for personal expenses like his own house. Per the SEC:
"NAC and Andrade falsely claimed that multiple government agencies were negotiating to use AML BitCoin, and Abramoff and Andrade falsely claimed that they were on the verge of advertising AML BitCoin during the Super Bowl in an effort to create interest in the offering, despite NAC being unable to afford the cost of the ad."
AML Bitcoin's advertisement was based on its compliance with government regulations including providing anti-money laundering support. Comically, the criminal charges in the indictment in San Francisco include one count of money laundering and one count of wire fraud, each of which carry up to 20-year sentences. As crypto gains more mainstream acceptance, AML and know-your-customer laws are a major concern for institutions looking to comply with government mandates. The Financial Action Task Force, for example, have been busy for the past year working to get the international community on-board with new requirements for cryptocurrency exchanges to keep information on their customers.