Bitcoin Halving to Push Market Cap Into the Trillions?
May 2020 will signal the third time that Bitcoin's mining rewards will be halved, and it is set to be exponentially more dramatic than the last two times. Basing predictions on previous performances that followed the drop in the supply of new Bitcoin, it can be expected that the market cap could reach into the trillions.
Bitcoin's current market cap sits at $142 billion, or $0.1 trillion, and its highest reach was $0.3 trillion back in December 2017. Bitcoin has yet to compete with other larger trillion-dollar markets, such as gold, which sits at $8 trillion.
This could all change in the years following May 2020. Looking over how Bitcoin performed following the previous two halvings, where macro-economic factors saw in an increase in demand due to a vast cut in supply, a trillion-dollar market cap is not just possible, but also probable.
A Look Back in Time
Pointed out by a Reddit user, slvbtc, the years following the cut in supply of new circulating Bitcoins saw dramatic rises in market cap, and prices. The author notes:
"Prior to the November 2012 halving the price was $12 and there were 50 Bitcoin being mined per block ($600) meaning the market was absorbing $604,800 of new Bitcoin per week. That halving reduced the new supply by $302,400 per week causing the market cap to rise by $14 billion dollars over the following year."
That is a reasonably dramatic boost in the cryptocurrency market cap, but when the next halving came around, in July 2016, the market cap of the major cryptocurrency had compounding growth as, over the next 18 months, it shot up to a staggering $300 billion.
"Prior to the July 2016 halving the price was $650 and there was 25 bitcoin being mined per block ($16,250) meaning the market was absorbing $16,380,000 of new bitcoin per week. That halving reduced the new supply by $8,190,000 per week," added slvbtc.
Bitcoin's Most Dramatic Move Yet
Basing his predictions on what has come before, slvbtc predicts that, with the price of Bitcoin hypothetically at $10,000 before the supply cut, Bitcoin's market cap should rise to trillions of dollars.
With Bitcoin at $10,000 before the halving, and 12.5 of it being mined per block ($125,000), that means $126,000,000 worth of new Bitcoin is entering the ecosystem per week. However, with that 50 percent cut after May 2020, the new supply with drop by "$63,000,000 per week potentially causing the market cap to rise by trillions of dollars over the following 2 to 3 years," he adds.
Entering the Big Time
Bitcoin has made a rather big impression on the global markets – especially for something that does not have such a big market cap relative to other markets and commodities. For Bitcoin to cross over into the trillions and start rubbing shoulders with gold and the like would be huge for the coin and its place in the global markets.
Is history destined to repeat itself? Are we soon going to be seeing Bitcoin overtake gold in market cap with new price highs due to increasing demand from a lower supply? Let us know your thoughts in the comments below.
Crypto Expert Says There Is 60 Percent Chance of Bitcoin Miner Capitulation
Cryptocurrency analyst Charles Edwards has estimated that there is a 60 percent chance that another miner capitulation, the dramatic drop of Bitcoin's hash rate, will take place soon. Miners have to decide whether they want to call it quits or run their operations at a loss in order not to miss out on a potential bull run.
There is ~60% chance of a Bitcoin miner capitulation.

But the extent of this HR growth plateau has never occurred before in Bitcoin's history.

Miners face a tough choice:
1) Mine more & accumulate more
2) Cut back & potentially 'miss' a major bull runhttps://t.co/DA5FR73aOI

— Charles Edwards (@caprioleio) November 18, 2019
In his Medium article, Edwards opined that there was an intrinsic link between hash rate and price. The new price bottom tends to coincide with miners leaving the Bitcoin network en masse. Hence, buying new coins when the hash rate reaches a local low could be an excellent opportunity to generate big returns (as the table below shows).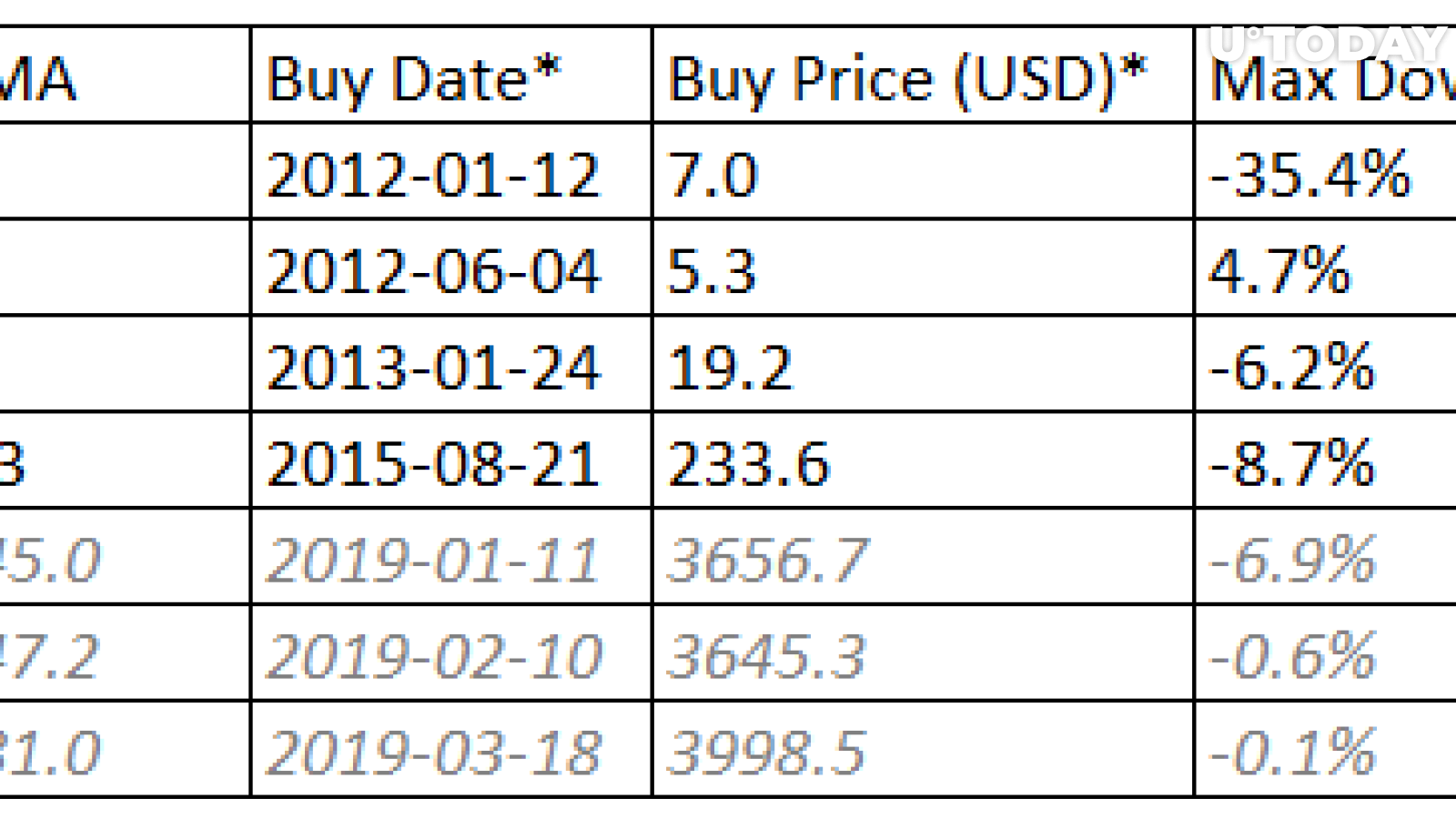 Hash rate is not as volatile as price. The biggest drop that has been recorded since 2010 is only 53 percent (a world of difference compared to Bitcoin's record-holding 93 percent drop).
Bitcoin's mining difficulty, which gauges the amount of computational power that is required for solving one BTC block, declined by seven percent on Nov. 7. However, Dutch permabull "Plan B" predicted that the next adjustment would be positive for Bitcoin based on its growing hash rate.
Bitcoin ATMs Top 6,000 Worldwide
There are now more than 6,000 bitcoin and crypto ATMs available to users worldwide.
According to data compiled by CoinATMRadar, there have been 6,003 crypto-based ATMs installed worldwide as of Nov. 17.
.@PayPal dropped payments support for @Pornhub. There are at least 6000 reasons to not care. #Bitcoin ATM installations number reached another round milestone – 6000 worldwide!! 🔥🔥🔥 Find all locations: https://t.co/PYxwqx33TN pic.twitter.com/KYp3M1nLzm

— Coin ATM Radar ₿🏧 (@CoinATMRadar) November 16, 2019
The United States continues to lead the rest of the world in bitcoin ATMs, with more than 3,900 machines installed. Canada has the second most 653, followed by the United Kingdom with 272 crypto ATM installations.
As previously reported, bitcoin ATMs have experienced a resurgence in growth throughout 2019, alongside the rising price of crypto-assets. In September, the total number of crypto ATMs worldwide topped 5,500, marking a 500 percent increase in installations since 2016.
The number of #Bitcoin ATMs from September 2016 to September 2019 has increased by over 500%

As of now, there are currently 5,457 Bitcoin ATMs globally.

Supply meeting a demand. pic.twitter.com/eIrHwvs2z6

— bitrawr (@bitrawr) September 19, 2019
Compared to traditional exchanges, ATMs charge higher fees on transactions that can reach as much as 15%. However, they also provide a convenient, physical kiosk for the transfer of bitcoin to fiat, and vice-versa, in addition to buying and selling crypto-assets.
Many members of the crypto community have looked at the rise in ATMs as a positive indicator of growing demand.
Russian Intelligence Agency FSB Linked to $450 Million in Missing Bitcoin
Russia's Federal Security Service (FSB) has been linked to the disappearance of $450 million in bitcoin from the controversial crypto exchange World Exchange Services (WEX).
Controversial Exchange WEX/BTC-e
In late 2018, Russian-based crypto exchange WEX collapsed amidst accusations of money-laundering the disappearance of hundreds of millions of dollars in bitcoin and other crypto assets. According to a BBC report published Nov. 15, the Russian FSB intelligence agency may have played a role in misappropriating the lost funds.
WEX was previously known as BTC-e before being shut down in 2017 by international authorities for its alleged involvement in money-laundering activities. Alexander Vinnik, the exchange's alleged operator, was arrested at the time and accused of laundering more than $4 billion in cryptocurrency since the exchange's launch in 2011.
A PwC report earlier in the year said,
WEX is most notably known for its alleged involvement in the laundering of some $4 billion, transferring of funds to facilitate operations of the threat actor tracked by PwC as Blue Athena, and being responsible for cashing out 95% of all ransomware payments made since 2014.
FSB Crypto Fund
According to the BBC report, WEX/BTC-e co-founder Alexey Bilyuchenko says he was forced to hand over information about customer's digital wallets to members of the FSB in 2018, which the intelligence agency allegedly used to obtain more than $450 million in user funds.
The BBC claims to have obtained audio recordings from individuals discussing the importance of bringing WEX under FSB control, including one man the BBC identifies as Konstantin Malofeev, a pro-Kremlin Russian billionaire currently under U.S. sanctions.
Bilyuchenko reportedly received multiple calls threatening to close the WEX exchange if he did not comply. According to the report, the WEX co-founder was taken to FSB offices in Moscow over the course of three days in April 2018, where he handed over flash drives containing details on accessing exchange user funds.
Bilyuchenko says he was told that WEX client money would be transferred to the "FSB Russia Fund." Several months after handing over the data, WEX froze customer funds and withdrawals, before completely shutting down in late 2018.